Highlights of Central America: Costa Rica & Panama — March 2023
Current Offers from EF/Go Ahead Tours:
> Enroll with auto-pay or pay in full at the time of booking, and enrollment will be risk-free for 60 days
Get the full itinerary, including optional excursions, on my main Go Ahead Tours page — you can even reserve your spot on the tour while you're there!
This is not a private tour for New Travels 4 Us members. We will be joining other travelers on this public tour.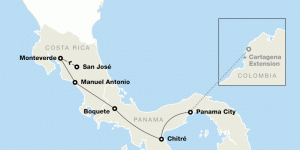 Considered a "Feast for the Senses," this tour of Costa Rica and Panama—operated by EF/Go Ahead Tours— from March 17-28, 2023, lets you experience the best of this vibrant region as you spot wildlife in the magical Monteverde Cloud Forest Reserve, sip flavorful Panamanian coffee at a local farm, and watch ships pass through the Panama Canal. Whether you're snapping photos of sloths in Costa Rica or strolling the historic streets of Panama City, the verdant landscapes and irresistible culture of these two nations will shine on this Wildlife Tour. There is an optional multi-day extension in Cartagena, Colombia, that you may select.
Get more information, including pricing and optional excursions, on my main Go Ahead Tours page (feel free to bookmark that page for easier future reference). The Monteverde Cloud Forest Nighttime Wildlife Walk sounds really exciting to me! And they even provide the flashlight for viewing the nocturnal animals.

---