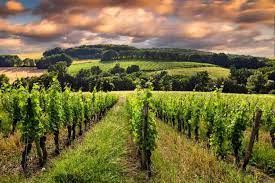 Where does some of the best wine in the world originate? Yes, Napa Valley in Northern California is awesome, but many "wine ranking sites" rate France's Bordeaux region slightly ahead of Napa Valley. I certainly will not turn down wines from the Napa area, however.
Recalling my first visit to Bordeaux (business trip in 2000), my local host took me out to dinner. He said, "We don't need a wine list; we'll just order the table wine. After all, it's from right here in Bordeaux." It was great. Of course!
I (Stuart, the owner of this website) am planning a great group vacation for July 2025. It will be in an Airbnb property, but the listings will not be available until August 2024. The good news is that I am already booked for a month in the same region for July 2024. I will be able to look at properties, talk with owners, and find us the best property that there is.
Price? I have no idea at this point, but here is how it will work.
The plan is to have 4 weekly Sunday-to-Sunday segments (July 6 through August 3, 2025)
There will be 4 or 5 (or more, depending on the demand) rooms available
Rooms (with private bathroom) may be rented for one week, two weeks, three weeks, or all four weeks
Rentals will be on a PER ROOM basis; max 2 people per room
Transportation to/from the Bordeaux airport (code: BOD) or train station will be included
There will be a "Welcome" Party each Sunday afternoon/evening
At least one winery visiting/wine tasting included each week
Morning pastries, coffee, tea, protein shakes will be provided
Some food items will be available for individuals to "make their own meals"
I hope to find a private chef to prepare most of the evening meals
One dinner (or more) in town provided each week
Optional activities will be announced as our time gets closer
. . . more details will be announced when they are known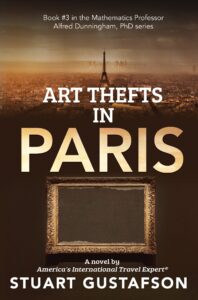 Join the PRIORITY LIST (below) and receive a copy of my mystery novel that is set in the exciting city of Paris, FRANCE! It is available in the major e-reader formats.
To be placed on the Priority List for first notification, please submit a refundable $400.00 "Hold a Spot 4 Me" deposit payment to me either via PayPal below, or send a check to me (Stuart Gustafson; 2306 N. Grandee Street; Boise, ID 83704). Only one deposit payment per room is required. Once the property is secured, and I send you notification, you will then have a couple weeks to select your week(s), or ask for a refund of your deposit. If you've sent payment via PayPal, your refund will be less the standard PayPal fees (roughly 3%). Prioritization will be in the order in which your room's $400 deposit has been received by me. Any questions? Email me. Thanks.
---