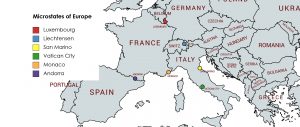 Thank you!
Thanks for registering for our awesome Microstates of Europe Tour in September of 2022. Now that you've registered and paid a deposit, here are some action items for you:

1. Scan the photo page of your passport and email it to me. I will need this information to register you with our tour operator. NOTE: If the expiration date is BEFORE April 2023, you will need to get a new passport before the tour because you must have at least 6 months left in the passport to enter Europe. If you need a new passport, or any visa for future travel, I recommend (and USE) VisaHQ in Washington, D.C., for all my passport and visa needs.
2. Watch for emails from me for more information about the tour, answer any questions you might have, etc.
3. Feel free to email me with any question you have, whether it's about tipping, packing, how much cash to have, etc.
4. I recommend having Travel Insurance. Click Here to get a quote for an Allianz travel protection plan.
Once again, Thank You for joining what I expect to be one of THE BEST tours ever — the 2022 Microstates of Europe Tour!