Summer Rail & Coach Trip Across Canada
An escorted rail and coach tour, with several boat trips starting in Toronto on May 20, 2024, and ending in Vancouver, June 2, 2024. Tour provider: GLOBUS.
BONUS from Stuart in addition to his other bonuses below:
Additional $150 CAD for first 4 to deposit
Welcome #1, Sharon
Additional $100 CAD for travelers 5-8
Additional $75 CAD for travelers 9-10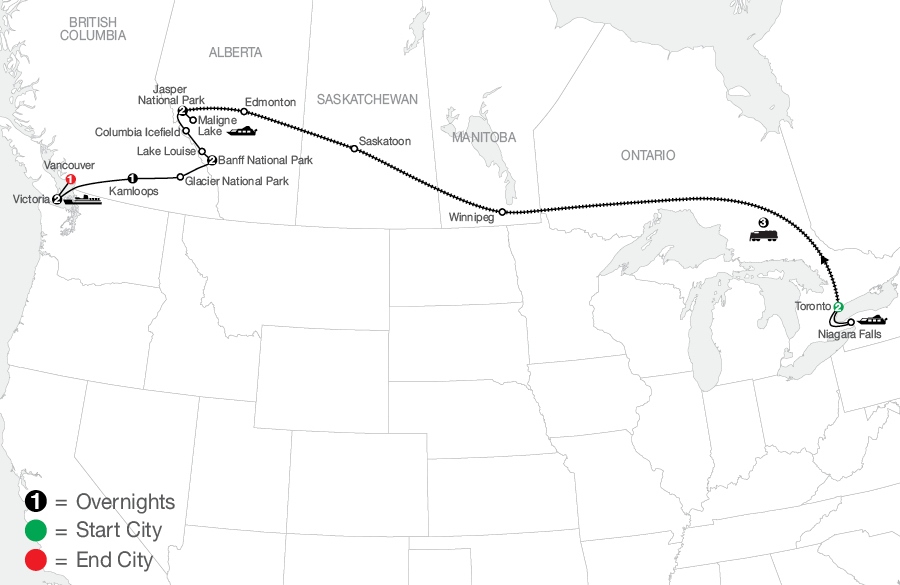 HIGHLIGHTS:
14 Days from Toronto to Vancouver
Full-time Globus Tour Director with us (and others)
3 Days & Nights Traversing beautiful scenery aboard Via Rail
Excursions to Niagara Falls, Jasper National Park, Columbia Ice Field, Butchart Gardens
Free evening in Banff
Ferry ride; scenic lake boat ride
AND MORE!
NOTE: Space is limited, and I am able to hold only 10 "spaces" at a time. Once those 10 are booked with deposits, I can ask to hold another 10 (space available).
PRICE (all prices USD): $5,922.52 per person double occupancy
INCLUDES
2 nights at The Westin Harbour Castle, Toronto
3 nights on The Canadian, Via Rail's premier train
2 nights at The Chateau Jasper
Cruise ride to Spirit Island on Maligne Lake
2 nights at Banff Park Lodge
1 night at South Thompson Guest Lodge in Kamloops
Ferry ride from Vancouver to Victoria
2 nights at Delta Victoria Ocean Pointe Resort
1 night at Delta by Marriott Vancouver Suites
13 Breakfast; 4 Lunches; 7 Dinners
Pre-paid Gratuities
(Mandatory) Canadian Tourism Tax
All transfers to/from hotels*, train, excursions (*except upon arrival in Toronto and departure from Vancouver)
Welcome Back Credits may be applied to final payment!
BONUSES from Stuart

:
One bottle of wine per person in Toronto hotel room
One bottle of Canadian whiskey per Toronto hotel room
Dinner with Stuart on a "free evening" (doesn't have to be everyone at once!)
Hosted cocktail hour before overall tour group get-together on first night in Toronto (just like on the Microstates Tour)
$200 Canadian cash handed to you at the hosted cocktail party! (first 10 travelers)
* If you prefer not to have the wine and/or whiskey, we can come up with something else!
NOT Included in Price:
Travel to Toronto and tour hotel; travel from Vancouver tour hotel
Extra nights and or transportation
Meals, activities, etc., not listed as being included
Travel Protection (highly recommended)
Single Accommodation Supplement of $1,104.00
Booking Details
Use the form below to send me your initial information; I will then send certain tasks (requests for additional information, approvals, etc.) to you
$500.00 per person non-refundable deposit will be required to hold your space
Final payment will be due in March 2024
Email me a copy of your passport photo page, as an image attachment (I have those who went on 2022 Microstates Tour of Europe)
---

Stuart Gustafson is an independent travel advisor under host agency KHM Travel. As such, he is entitled to receive a commission from each booking that takes place through this website. The traveler's price for booking the travel is NOT increased because of this host agency/independent Travel Advisor relationship.

---