There are two New Travels 4 Us tours currently planned:
The 2024 Canada Rail and Coach Tour (there are 11 of us so far, with one more cabin available)
A JULY 2025 vacation (wine tasting, chef-prepared dinners, etc.) in the Bordeaux region of France. Airbnb listings are not yet available, but I have found many possibilities (plus I will be in that area for a month in 2024 so I will be able to personally research places)
There is ONE LAST cabin available on the 2024 Canada Trip (Toronto to Vancouver), and it will be exciting as it includes a trip to Niagara Falls; 3 nights on a spectacular train; two nights in Jasper; two nights in Banff; visit to world-famous Butchart gardens, etc. CLICK HERE for more details!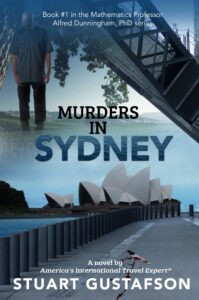 Get a copy of my travel-based mystery novel Murders in SYDNEY when you sign up to get my weekly newsletter full of travel news and travel tips.
As America's International Travel Expert®, my focus IS on international travel, although some tips work for domestic travel as well. Click Here to join.
Some Travel Tip Titles:
> Carry Essential Oils with You
> Managing Your Travel Bucket List
> Nested Luggage for Long Stays
> Check Devices for Dual-Voltage Capability
> Overview of Plug Adapters