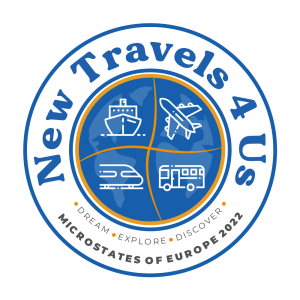 The Microstates of Europe Tour began September 4, 2022, in Brussels, Belgium, and ended on September 22nd in Barcelona, Spain. Operated by Globus, this custom tour took 18 travelers through the six smallest countries in Western Europe: Luxembourg, Liechtenstein, San Marino, Vatican, Monaco, and Andorra. This was the first tour for New Tavels 4 Us, so it was exciting to meet new friends, reacquaint with some we've traveled with before, while we toured through Europe, saw new sights, and tried new foods!

Stuart Gustafson, America's International Travel Expert®, was pleased to host this incredibly amazing Microstates of Europe Tour, as he set a high bar for quality and experience so that the travelers know what to expect of future New Travels 4 Us tours.
Possibly interested in a tour? Fill out the form below to be included on the no-SPAM email list (THE primary source of communication) about travel tours:

---
---
Notes & Disclosures:
> Some links on this site are affiliate links meaning that I might receive a commission should you choose to purchase the products or services. Your price is not impacted by any potential commission, and I will never promote ANY item that I do not believe is worth the value.
> I might receive certain benefits from travel providers and operators in return for using their services. As always, I will be looking for, and arranging, travel opportunities that I think are enjoyable by the travelers.
> Deposits and payments are fully refundable, less applicable processing fees, within seven (7) days of receipt by Stuart Gustafson. After that, there are no refunds unless the tour is completely cancelled, and full refunds are given.
> Travel insurance is recommended for ALL trips and tours, not just ones with New Travels 4 Us. Information is available upon request.